on Thu Aug 24, 2017 11:05 am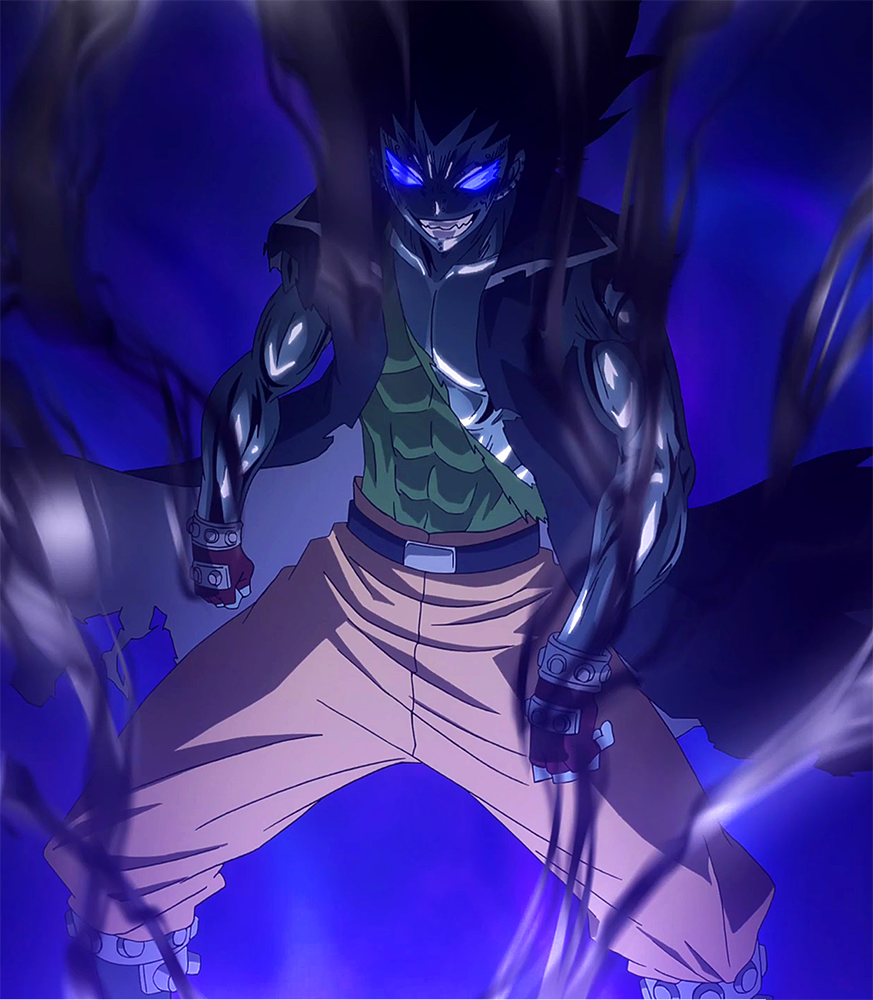 Name:
Beleth
Gender:
Male
Age:
25
Status:
 Pro Hunter
Nen Type:
Enhancer
Faceclaim:
Gajeel Redfox From Fairy Tail
Height:
6'2
Weight:
160 lbs
Description:
Beleth has black hair. He is extremely tall and muscular. He stands six feet two inches tall and weighs one hundred and sixty pounds. He has black eyes, and his has piercing around his cheeks. He wears normally rough stuff or simple pants, and long sleeveless vest. He doesn't normally wear a shirt. However, he does wear a hat sometimes on a hot day. To produce more sweat of the body due to the heat. Normally you'll find him wearing as Suit only if it's formal wear and a party or simple Furnemel, or Wedding, other wise suits are not his thing.
Personality:
Beleth is a straight forward guy. However he is capable of holding back and keeping secrets unlike most Enhancers. Among his profession he sometimes has to hide his own secrets from others and play extremely smart. Then a rather bland typical enhancer would. That's what makes him deadly. He is cold, ruthless and bloody. When it comes to his contacts. Outside of his training and jobs. He is an actually pretty chill happy good lucky dumbass who enjoys acting like a kid and stupid troll on the interwebs. During training, his personality switches into a more serious, and more demeaning aspect to a point where his main focus is to get stronger. On his missions he is even more seriously. He isn't a dumbass and he thinks more often then he should unlike how he is when he is not on missions. Overall his a decent guy. He doesn't let his emotions get the best of him when his own a mission or his training. But if he is completing against someone. He would push himself further in training to try and surpass that person. He enjoys the friends he has outside of work. He'll do anything for them. Well within his right and within reason of course. Other then that he would most likely focus on this like socializing and talking. Planing events that does not require one self to have formal wear. Overall in a nut shell his a pretty decent guy. That loves to enjoy himself on missions.
Likes:
Training
Money
Women
Dislikes:
Children
People screaming
Fending
History:
Beleth is in a family of five. He is the youngest. His Father is a Legendary Five Star Black-list Hunter. his mother is a two star Contact Hunter and his Eldest Brother is an Assassin. Beleth wanted to follow in his father's foot steps. As a Black-list hunter. SO he would start his training from an early age. Till he was the age of eight. That's when he had stopped and he would enter the Hunter Exam. Now the Hunter Exam varied from time to time. His was simple take down everyone and you pass. Fairly simple aye? Sure, of course it was Beleth took everyone one besides one of them. There stood his opponent. One capable of Nen. His eyes fixed on him. Ready to pounce. After that he had no choice he knew he was gonna lose. But he couldn't accept defeat. Sweat was pouring from his body. And at the last sight of danger. Beleth produced a Legendary Vapor from sweat, out of force. Which harmed his body afterwards after he had burned the person alive. After the person when extremely to close to Beleth within the range. The closer the enemy is the faster they burn, the further away they were, the slower they burned. And thus this allowed him to gain his Hunter's Lisance Of course he was given an instructor, and he was told he was an Enhancer and and traits which he saw as a flaw. And he worked on it over time.
Hunter Type:
Black-List Hunters
Primary Hatsu Name:
Vapor Body
Description:
The ability to produce Vapor from one's body. From the sweat that is produced from one's body. Beleth is capable of release a fog around him based on his sweat anyone that get's near the radious will get burned from the vapor. It also allows him to shoot sweat as small particle like bullets in that can punctuate the body. Not only that but salt produced from his body, can also be used as a weapon.
Strength:
E
Speed:
F
Durability:
F
Nen Points:
 4
Referral:
Find it on my own like a Dog.
on Fri Aug 25, 2017 5:30 pm
So while you do, just barely, meet the minimum requirements, I'm gonna have to ask you to make just a few changes.

First off, there are many grammatical errors throughout your app. While I'm not going to be a huge stickler on this, as nobody is perfect, I do request that you go through and proofread your app. To get you started, this is from your personality: "He has black eyes, and his has piercing around his cheeks."

Second, I request that you add a little more to your nen description. Granted it does paint a somewhat general picture of what it can do, I am wanting more due to that fact that the sentences are short and incomplete. This is the easier one of the two.

Just hit up the staff request thread when you're done!

Permissions in this forum:
You
cannot
reply to topics in this forum