on Tue Aug 22, 2017 8:39 pm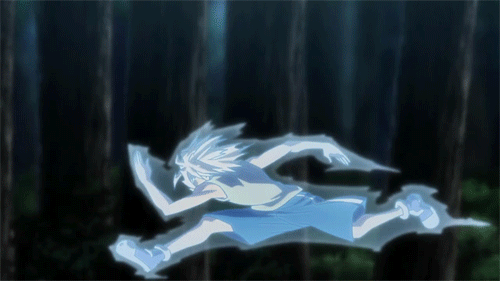 Name:
Godspeed
Nen:
Ryujin
Types:
Transmuter
Strength:
Weak
Aura Cost:
20
Damage:
G
Speed:
SS
Range:
G
Size:
E
Description:
Shin generates a surge of electricity throughout his body, increasing his speed to levels that far exceed that of a human. His entire body glows with electric aura, while his hands and feet give off sparks.
Limitations:


God's Wrath - Heavy [16]: Once activated, Godspeed causes the user to lose speed the longer it is active. The first turn, the user may move at speed of 50 m/s but during the second turn, it is reduced to 40 m/s and so on. Additionally, once activated, this ability may not be canceled until the buff reaches 0 m/s.

on Wed Aug 23, 2017 10:44 pm
Hi there, Norte here to grade your technique.

First, the Size will have to be raised to E if you intend to buff your entire body with speed due to the size affected.

Secondly, I'm going to require a condition for your limitation. In order to prevent the ability to cancel and recast the technique to bypass the limitation, you'll need to have something like "The ability regains 10 m/s of speed for every post not in use." Or, "The ability may not be cancelled until the buff reaches 0 m/s.". These are not the only possibly conditions, just examples of some that would help prevent bypassing the limitation.
on Wed Aug 23, 2017 11:05 pm
Edited and also added a bonus.
on Wed Aug 23, 2017 11:28 pm
You are currently one point over your allowed limit. Your technique allows for 28 points and is using 29.

Also, I'm going to have to rule that a potentially SS additive speed buff to all other techniques is most likely a large bonus, even considering the limitations. Please note that any CQC techniques employed would naturally move at your heightened speed without bonuses.
on Wed Aug 23, 2017 11:35 pm
Got rid of the bonus. Edited & Bump.
on Thu Aug 24, 2017 12:25 am

Permissions in this forum:
You
cannot
reply to topics in this forum